(re) Insurance Marketing & Business Development
To grow your insurance-related business in Latin America you need two important things:
To know the Latin American Insurance Market and its key players.
Focus on your target and brand exposure.
David Roig offers both things. After many years developing business and organizing many insurance-related events in different cities (Miami, London, Madrid, Bogota, Ciudad de México, Lima, Lisbon, Chicago, etc.) Roig has an unparalleled network of insurance professionals that are connected thought innovative communication channels.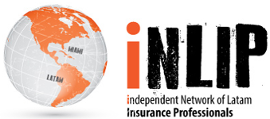 David Roig is the founder of iNLIP.
iNLIP means «independent Network of Latam Insurance Professionals». It is a fully independent community where insurance professionals interested in Latin America share news, articles, jobs, events, seminars, etc.
iNLIP website receives thousands of views every month, making it today one of the most successful Internet insurance-related platforms in Latin America and the Caribbean.